52 Hymn Story Devotions
Dear Friends,

Many people look forward to a special day in April, each year. Silly surprises may be shouted,"April Fools".But this year, not much of that happened. The tragic news reports of the Covid-19 virus were the biggest news items that day and continue.

Thankfully, we have the blessed assurance that the Word of the Lord never changes. We sing about the cruel crucifixion of Jesus in "Beneath the Cross of Jesus." However, we sing of His glorious resurrection on Easter Sunday! "Christ the Lord Has Risen Today".

When I wrote these two hymn story devotions in the book, 52 HYMN STORY DEVOTIONS, I rejoiced in God's constant love. The composers who wrote them over a hundred years ago, told of His glory that is eternal.

Love in Jesus' name,

"Jesus Loves You Fellowship"
In the Bible we read these words of Jesus,
"Believe in God, believe also in me." (John 14:1)
As we believe, we can know God's perfect love.
The following stories and songs tell of God's
plan for our lives.

1. 'Jesus Loves Me' - This simple, childlike song has its beginnings in a very short poem in a very long novel ...
2. 'Softly and Tenderly Jesus is Calling' - The dynamic preaching of evangilist Dwight L. Moody was over: he lay on his deathbed ...
3. 'Amazing Grace' - Even the sound of sweet-grace, grace-it is amazing...
4. 'Go Tll It On the Mountain' - The carolers in our town who sing from door to door often sound like a band of angels ...

God bless you,
Lucy N. Adams

"...like a pebble being tossed into crystal clear waters creating ripples of new understanding..."
"...inspirational work of art." - "I love Lucy Adams ..." - "...I highly recommend this book."
Hymns inspire an author's book
Lucy Adams turns 52 songs of devotion a top seller
By VICKI HYATT, Staff writer,
LAKE JUNALUSKA -- Lucy Neeley Adams, author of "52 Hymn Story Devotions," claims there is nothing original in her recently published book.
"I haven't written a thing that hasn't already been said somewhere, except for the personal illustrations about what a hymn meant to me," she says humbly.
But researching the beginnings of some of the most popular hymns through the ages, condensing the story and then adding a poignant "personal touch" has been a popular concept. It has taken Adams on a journey from a music ministry within the Methodist churches where her husband has pastored to a radio personality, then a newspaper columnist and finally to writing a book.

Within this site, you will find a brief history of Lucy Neeley Adams, excerpts from 52 Hymn Story Devotions, Benefits & Reviews, a story of "Our Song" and how to purchase "52 Hymn Story Devotions" from either: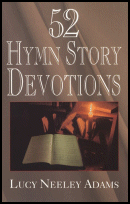 Other Stories

WHEN "God Speaks, Devotional Responses to Every 3: 16 in the New Testament "God is speaking. Are we listening? When we're lonely, confused, or angry, God speaks to us. When we're content, satisfied, or joyful, God speaks to us. Join the Christian Writers Fellowship of Western North Carolina on a journey through the New Testament's 3:16 passages. God speaks to us through His word. He wants to speak to you too.

May 2013 publication.
<!img src="/cgi-sys/Count.cgi?df=hymns2.dat|display=Counter|ft=2|md=5|frgb=0;0;0|dd=E|st=550"> <!img src="/cgi-sys/Count.cgi?ft=2&frgb=000000&dd=E|df=x.dat"|st=2950> <!img src="/cgi-sys/Count.cgi?df=52hymns.dat|display=Counter|ft=1|md=5|frgb=0;139;216|dd=A">