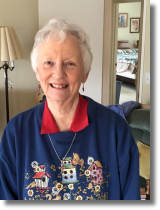 Dear Friends,
Go Tell It On The Mountain
We are getting ready to sing, sing and sing some more the glorious Christmas Carols we have loved for so long. This is certainly one of my favorites because it leads us to sharing the glorious message of Christmas. Let's sing about it, and let's pray that these messages get into our hearts as we proclaim that a glorious event happened many years ago and is celebrated each year.
This carol was in a 1907 publication, AMERICAN NEGRO SONGS AND SPIRITUALS (1940). Two verses were added by John W. Work, Jr., a history professor at Fisk University. He wrote that the words may have changed at times, but "the gospel message was always proclaimed."
Within the pages of , 52 HYMN STORY DEVOTIONS we read and sing our gospel message within each hymn that lifts up the truth of our Lord Jesus Christ. Join us this month as we share the glories of Christmas !!!
GOD BLESS YOU,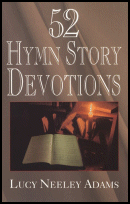 or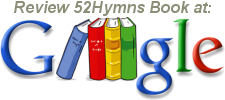 "Jesus Loves You Fellowship"
In the Bible we read these words of Jesus,
"Believe in God, believe also in me." (John 14:1)
As we believe, we can know God's perfect love.
The following stories and songs tell of God's
plan for our lives.
1. 'Jesus Loves Me' - This simple, childlike song has its beginnings in a very short poem in a very long novel ...
2. 'Softly and Tenderly Jesus is Calling' - The dynamic preaching of evangilist Dwight L. Moody was over: he lay on his deathbed ...
3. 'Amazing Grace' - Even the sound of sweet-grace, grace-it is amazing...
4. 'Go Tll It On the Mountain' - The carolers in our town who sing from door to door often sound like a band of angels ...
God bless you,
Lucy N. Adams