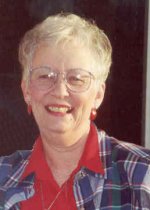 Dear Friends,
It is a joy to share with you. We may never meet, but I am thankful you have clicked over to see what this site is all about.
When 52 HYMN STORY DEVOTIONS was published, in the year 2000, I knew it was to be a little book that never grows old. With the hymn stories of favorite messages in song, we can read and re-read. Someone told me, "I am amazed that after hundreds of years we are still singing most of the hymns you have written about."
One of the all time favorites is, "Amazing Grace". Composed by John Newton in the 1700's, he was led into the slave trade business by his father. It was degrading and he longed for the Christian life he knew from his mother before she died. Praise God for the miracle change for him and the richness of this music that fills our souls.
It was truly the amazing grace and healing of God's love that filled his life. He answered God's call to a powerful ministry.
Thank you for stopping by.


(Now living in Hermitage, TN)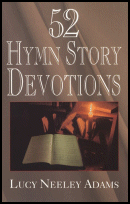 "Jesus Loves You Fellowship"
In the Bible we read these words of Jesus,
"Believe in God, believe also in me." (John 14:1)
As we believe, we can know God's perfect love.
The following stories and songs tell of God's
plan for our lives.
1. 'Jesus Loves Me' - This simple, childlike song has its beginnings in a very short poem in a very long novel ...
2. 'Softly and Tenderly Jesus is Calling' - The dynamic preaching of evangilist Dwight L. Moody was over: he lay on his deathbed ...
3. 'Amazing Grace' - Even the sound of sweet-grace, grace-it is amazing...
4. 'Go Tll It On the Mountain' - The carolers in our town who sing from door to door often sound like a band of angels ...
God bless you,
Lucy N. Adams