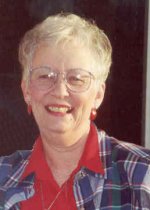 Dear Friends,
Many of the hymns that you read in my book, 52 HYMN STORY DEVOTIONS, have familiar stories. As you scan the contents, you might think, " I heard that a long time ago ". And I am thankful that I can "tell it again" since each composer has a wonderful place in history.
But just a few days ago, I received a new response and blessing from someone. She thanked me for the daily devotional strength she receives from reading the 52 hymn stories. As tears filled her eyes, she expressed a need that we all have. "I am growing closer in my understanding of God's plan for my new spiritual insights and I thank you for writing this book."
That is just what I prayed would happen when I wrote it several years ago. From the opening scripture to the closing prayer of each hymn, I longed to be lifted into God's revelation and will. My prayer continues for our spiritual growth. Hallelujah!


(Now living in Hermitage, TN)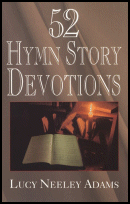 "Jesus Loves You Fellowship"
In the Bible we read these words of Jesus,
"Believe in God, believe also in me." (John 14:1)
As we believe, we can know God's perfect love.
The following stories and songs tell of God's
plan for our lives.
1. 'Jesus Loves Me' - This simple, childlike song has its beginnings in a very short poem in a very long novel ...
2. 'Softly and Tenderly Jesus is Calling' - The dynamic preaching of evangilist Dwight L. Moody was over: he lay on his deathbed ...
3. 'Amazing Grace' - Even the sound of sweet-grace, grace-it is amazing...
4. 'Go Tll It On the Mountain' - The carolers in our town who sing from door to door often sound like a band of angels ...
God bless you,
Lucy N. Adams