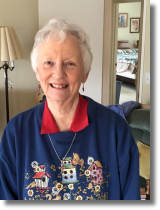 Dear Friends,
It Is Well With My Soul
During these days of unrest, from various pressures in our world, we need the peace of God within our hearts. So we seek more of Him through prayers, Bible reading, and fellowship with other Christians. Also, we let His music lift us in praise that God is our strength.
"It Is Well With My Soul" was written in 1873 during a time of sadness. Within the pages of 52 HYMN STORY DEVOTIONS we read these words : "The Horatio Spafford family of Chicago planned an exciting vacation to Europe for the fall of 1873. The father would meet them there in a few days. But before he could get there, the ship sank and his daughters drowned. His wife sent a message to him, "Saved alone'. In his time of grief he spoke to his Lord, whom he had learned to love and trust in the past."
Sadness and suffering can come so quickly. How will we get through it? This hymn story reveals God's power through music. May God bless and keep us as we grow closer to Him in all circumstances with His love and strength.
God's bless you,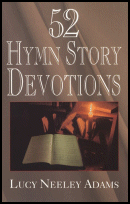 or

"Jesus Loves You Fellowship"
In the Bible we read these words of Jesus,
"Believe in God, believe also in me." (John 14:1)
As we believe, we can know God's perfect love.
The following stories and songs tell of God's
plan for our lives.
1. 'Jesus Loves Me' - This simple, childlike song has its beginnings in a very short poem in a very long novel ...
2. 'Softly and Tenderly Jesus is Calling' - The dynamic preaching of evangilist Dwight L. Moody was over: he lay on his deathbed ...
3. 'Amazing Grace' - Even the sound of sweet-grace, grace-it is amazing...
4. 'Go Tll It On the Mountain' - The carolers in our town who sing from door to door often sound like a band of angels ...
God bless you,
Lucy N. Adams