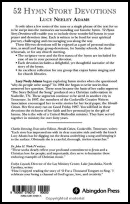 52 Hymn Story Devotions is ideal for anyone who enjoys hymns and leads devotions at church meetings, choir rehearsals, and Sunday school. The volume can also be used by individuals for personal devotions. Key Features:
Each devotion includes a Scripture reference, printed hymn text, and commentary
Provides devotionals based on 52 familiar hymns
Devotions can be read verbatim by leader or party member
Key Benefits:
Helps choirs with the spiritual aspect of choir membership
Can be given to a choir member to read with no advanced preparation
Allows choir directors to use devotions to strengthen the choir ministry.
Reviews

"Lucy Adams has written a book I will long keep at my chairside. Each story devotion to me is like a pebble being tossed into crystal clear waters creating ripples of new understanding, life, appreciation for, and connection to the hymns I've grown up with. They are stories I can share with my children to enhance their worship experience. The human connection behind the words and music along with Mrs. Adam's personal accounts just may serve as a seed planted towards another great hymn. The reader is encouraged that all it takes is one thought, pen in hand, and the desire to grow in their journey of faith."
Joanie Blalock - Waynesville, NC

"Your book is quite a precious little jewel. I sat down with it this evening and was truly mesmerized by your research and the way in which you were able to convey (almost as though you knew each author personally!) the history and meaning of these hymns. In short, I loved it. Not only is it an inspiring piece of church history, but also an inspirational work of art.

Lucy Neeley Adams writes in a refreshing style, leaving the reader inspired and ready to sing old hymns with renewed enthusiasm! 52 Hymn Story Devotions clearly conveys the various shades of meaning surrounding each song,while guiding the reader into a warm relationship with the hymn writer. I will never again sing a hymn in Church without thinking of Lucy Neeley Adams and desiring to know more about the song that I am singing."
Patricia Gaddis - author, Hazelwood, N.C.

"I love Lucy Adams' stories, and even though I am not a musician I was fascinated with how the songs were written."
J. Keith Miller - author & co-author of over 23 books. Austin, Texas

"Looking for that spark to help you with the devotion that just doesn't come to you? Want something that is just what you need in your own devotional life? Then, 52 HYMN STORY DEVOTIONS, by Lucy Neeley Adams is the book for you. This past Christmas I received Lucy's book as a gift. Fifty-two devotions--- I planned to read one a week, and it would last all year!

That plan didn't work. Each story made me want to read the next, and the next. But it will still last all year, for one wants to go back and read each story again and again.

Lucy chose and carefully researched favorite old hymns and wrote wonderful stories about the, their origins, and their composers. She wove into these devotions personal thoughts that reflect her own faith journey.

She included a scripture verse, a stanza of the hymn, and a prayer to help in one's personal meditation. I highly recommend this book."
Mary Lou Moore of Nashville , TN - Scarritt Bennett Center, Librarian.

"If you are a regular reader of this column, it probably means you are a fan of music and some of the great hymns of the church. If this is the case, you will enjoy the book, 52 HYMN STORY DEVOTIONS. As the title of the book suggest, 52 hymns are featured in its pages. The stories, well told and informative, help you better understand how the hymn came to be.

As the title also suggests, the book provides more than just background on the hymns and is a devotional resource. One way this is accomplished is the inclusion of Lucy's life and witness. As she writes about the ways the hymns have touched and shaped her, the stories take on a personal depth. After the story of the hymn "In The Garden", Lucy concludes with a story of her own. On Easter morning of 1976, she received a phone call with the news that her sister had died very suddenly.

Before she could leave to join her sister's family in Virginia, she went to worship. She writes, "I trembled in my weakness, but my faith was strong." Sitting in the pew, she looked at the bulletin in her lap. On the cover were two words 'He lives'! She continues, "Staring at those words, I was struck by another truth, and I penciled in the letter 'S'. The bulletin now read, 'She lives'".

It is this kind of testimony that helps bring the stories alive. If you are interested in using hymns to help deepen your faith, this book will help."
Rev. David Campbell pastor of Cornerstone United Methodist Church in Newnan, Ga. He is a writer for the South Ga. Christian Advocate.