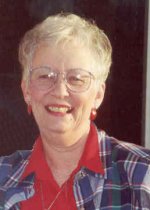 Dear Friends,
The stories that I have written in 52 HYMN STORY DEVOTIONS represent much more than a brief insight into history. They are love stories. They reveal the most essential relationship in life. We are to have a loving response to God's love. I have also included some of our family stories that have warmed our hearts as we sang.
These 52 hymns bring love to our heart as we reach out for more of God's teaching. We go from the first hymn, "A Mighty Fortress Is Our God" to the last one, "Wonderful Words Of Life" and are blessed with the infilling of His glory through music.
It is a joy to share these devotions that highlight these beautiful hymns.


(Now living in Hermitage, TN)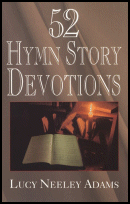 or

"Jesus Loves You Fellowship"
In the Bible we read these words of Jesus,
"Believe in God, believe also in me." (John 14:1)
As we believe, we can know God's perfect love.
The following stories and songs tell of God's
plan for our lives.
1. 'Jesus Loves Me' - This simple, childlike song has its beginnings in a very short poem in a very long novel ...
2. 'Softly and Tenderly Jesus is Calling' - The dynamic preaching of evangilist Dwight L. Moody was over: he lay on his deathbed ...
3. 'Amazing Grace' - Even the sound of sweet-grace, grace-it is amazing...
4. 'Go Tll It On the Mountain' - The carolers in our town who sing from door to door often sound like a band of angels ...
God bless you,
Lucy N. Adams