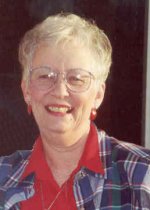 Dear Friends,
God's love has been expressed through music for centuries. It has been an honor through the years, to study and write hymn stories of the origin of some of my favorites.
I began this adventure on radio in 1984 at WWGM in Nashville, Tn. A few years later, I continued writing stories in our hometown newspaper. Soon my computer became a good place where I could share my hymn story ministry.
When my book, 52 HYMN STORY DEVOTIOINS was published in 2000, I was blessed to join a great computer service. Rich's Web Design has been very important in my ministry. rich@richswebdesign.com.
So, I am happy that you have come to this site. On the line above this message, there are nine different subjects. One is Crosswalk Archives which includes 30 of my favorite hymn stories from their site. I wrote for them several years ago, and I appreciate Rich including them on my website. Share them with others as we give God the glory for His music blessings!


(Now living in Hermitage, TN)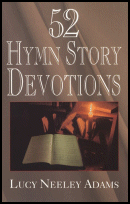 or

"Jesus Loves You Fellowship"
In the Bible we read these words of Jesus,
"Believe in God, believe also in me." (John 14:1)
As we believe, we can know God's perfect love.
The following stories and songs tell of God's
plan for our lives.
1. 'Jesus Loves Me' - This simple, childlike song has its beginnings in a very short poem in a very long novel ...
2. 'Softly and Tenderly Jesus is Calling' - The dynamic preaching of evangilist Dwight L. Moody was over: he lay on his deathbed ...
3. 'Amazing Grace' - Even the sound of sweet-grace, grace-it is amazing...
4. 'Go Tll It On the Mountain' - The carolers in our town who sing from door to door often sound like a band of angels ...
God bless you,
Lucy N. Adams