52 Hymn Story Devotions
My friends,

Thanks for stopping by my web home. It is a joy to tell you about my book, 52 HYMN STORY DEVOTIONS. The music that you might recall as you read these hymn stories will make your heart happier. The first verse of the hymn is printed at the close of each story.

Opening with Scripture and ending with prayer, I rejoice that God inspired composers and poets to write His message of love. You will be amazed at these fifty two brief devotionals. I have included some of my family experiences with the hymn as well as why the composer wrote many years ago.

God's blessings always,
The Old Rugged Cross Lights the Way

The cross at Lake Junaluska has a beautiful history that is treasured. It was to be only a summer blessing when it was dedicated on July 10, 1922.

But the Southern Railway employees had a special request. Could it be lighted each night throughout the whole year because of the inspiration it gave to them as they traveled through this area. Their request was granted and the rest is history. Thousands have been blessed because of its presence each day and especially each night when the lights come on. (Read the entire article HERE)

---

'I Surrender All' — a message for Pentecost

When we left the closing worship service at a church retreat, my friend seemed different. Her smiling face had changed to a blank expression. She kept repeating, "I can't do it, I can't do it."
I understood how she felt because the closing hymn had been, "I Surrender All." Finally she shared with me, "I should tell the Lord, I am happy to sing that but I really don't mean it."

(Read the entire article HERE)

---

''Easter People, Raise Your Voices' in joy

Do we have a problem with Easter? Yes, we do if we see it only as a one-day celebration. When the preparations are over and the worship service is only a memory, is there more? Yes, of course, there is much more for the Christian who is once again assured that the Friday Crucifixion of our Lord Jesus resulted in His being raised from the dead on that glorious Resurrection day. We not only shout, "He is risen, He is risen, indeed." We live that gospel truth out in our everyday lives. ...

(Read the entire article HERE)

---

When I was a child, our family had a housekeeper. Lurline Argo was a blessing to my life. Before I knew there was racial prejudice, I loved this woman, whose skin was much darker than mine. She loved me, too, and was one of the foundations of my childhood.

(Read the entire article HERE)

---

Cheers and tears of joy came from a crowd of almost two million on January 20, 2009 in front of the White House in Washington, DC. It was Inauguration Day and there was a change of leadership in America.

(Read the entire article HERE)

---

"Love & Christmas: A Perfect Match"

The breezes were cold but our hearts were warm. When our choir went from door to door singing our favorite Christmas carols, we threw in a golden oldie that is not often sung. But the universal subject of LOVE is what Christmas is all about... "Love came down at Christmas. Love all lovely, Love divine.
Love was born at Christmas, a star and angels gave the sign."

(Read the entire article HERE)

---

It seems strange, but singing the same Christmas carols year after year is delightful. "O Little Town of Bethlehem" is one of them. It never ceases to be meaningful as I picture the many visual images in the words. I accept its beauty with joy in my heart and the simple beat of its music. (Read the entire article HERE)

---
Look at a few of my 52 hymn stories!
"A Mighty Fortress Is Our God" ( Luthers' complaints sounded all around the world )


"Amazing Grace" (Newton's life of degradation suddenly changed.)


"America the Beautiful" (Bates was unhappy with her poem)


"Battle Hymn of the Republic" (Howe decided the words were horrible)


" It Is Well With My Soul" (Spafford wept as he read, "Saved alone")


"Jesus Loves Me" (This simple, childlike song has its beginnings in a very short poem in a very long novel. Today, millions of people know the poem written by Anna Warner. The novel has been forgotten.)


" Just As I Am " (She could not believe the cold, hard facts. The prognosis of her disease was eventual paralysis. As Charlotte Elliotts' frustrations grew into anger, she wondered why God would allow such a thing to happen.)

"...like a pebble being tossed into crystal clear waters creating ripples of new understanding..."
"...inspirational work of art." - "I love Lucy Adams ..." - "...I highly recommend this book."
Hymns inspire an author's book
Lucy Adams turns 52 songs of devotion a top seller
By VICKI HYATT, Staff writer,
LAKE JUNALUSKA -- Lucy Neeley Adams, author of "52 Hymn Story Devotions," claims there is nothing original in her recently published book.
"I haven't written a thing that hasn't already been said somewhere, except for the personal illustrations about what a hymn meant to me," she says humbly.
But researching the beginnings of some of the most popular hymns through the ages, condensing the story and then adding a poignant "personal touch" has been a popular concept. It has taken Adams on a journey from a music ministry within the Methodist churches where her husband has pastored to a radio personality, then a newspaper columnist and finally to writing a book.

Within this site, you will find a brief history of Lucy Neeley Adams, excerpts from 52 Hymn Story Devotions, Benefits & Reviews, a story of "Our Song" and how to purchase "52 Hymn Story Devotions" from either: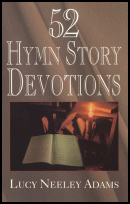 | | | |
| --- | --- | --- |
| | or | |
| | | |

Other Stories

WHEN "God Speaks, Devotional Responses to Every 3: 16 in the New Testament "God is speaking. Are we listening? When we're lonely, confused, or angry, God speaks to us. When we're content, satisfied, or joyful, God speaks to us. Join the Christian Writers Fellowship of Western North Carolina on a journey through the New Testament's 3:16 passages. God speaks to us through His word. He wants to speak to you too.

May 2013 publication.
<!img src="/cgi-sys/Count.cgi?df=hymns2.dat|display=Counter|ft=2|md=5|frgb=0;0;0|dd=E|st=550"> <!img src="/cgi-sys/Count.cgi?ft=2&frgb=000000&dd=E|df=x.dat"|st=2950> <!img src="/cgi-sys/Count.cgi?df=52hymns.dat|display=Counter|ft=1|md=5|frgb=0;139;216|dd=A">