52 Hymn Story Devotions
My friends,

Ever wondered why my book has the number 52 in the title?

52 HYMN STORY DEVOTIONS is a reminder that there are 52 weeks in the year and there are 52 hymn stories in my book. Therefore, you are to read only ONE hymn story a week, and at the end of 2014 you will have finished the entire book! Just kidding, of course, but reading one per week is a good way to have a consistent devotional time: you can study the story, the Scripture passage, and all the verses of the hymn.

Actually, you go ahead and read the book anyway your heart desires. I welcome you to the good world of 52 HYMN STORY DEVOTIONS.

God bless you,

When I was a child, our family had a housekeeper. Lurline Argo was a blessing to my life. Before I knew there was racial prejudice, I loved this woman, whose skin was much darker than mine. She loved me, too, and was one of the foundations of my childhood.

(Read the entire article HERE)

---

'Rudolph the Red-Nosed Reindeer' — Everyone needs some 'light' in life - By Lucy Adams | Dec 30, 2014

He was quietly working at his desk in advertising department of a large national department store when the boss came by and said, "Can you come up with a new gimmick for the Christmas shoppers? Sales were slow last Christmas." ... (Read the entire article HERE)


'Precious Lord, Take My Hand' - By Lucy Adams | Sep 21, 2014

When we sing this hymn, it becomes a sacred request. The composer's heart was broken and he yearned for relief. It seems that there was no hope except to ask his Lord, his precious Lord, to take his hand and lead him out of grief. Millions who have sung these words have been touched with the Lord's healing hand... (Read the entire article HERE)

'Just As I Am' - By Lucy Adams | Aug 13, 2014

The revival was coming to the close. Each night the preacher asked if anyone wanted to come to the altar to receive Jesus as lord of their life. That night, a very special young man was there but he had other priorities. Billy Graham talks about that wonderful night in one of his books, "Crusade Hymn Stories." (Read the entire article HERE)

The Spafford family was excited about their family vacation. They would travel from Chicago to Europe in the fall of 1873. However, when the time came, business matters in his law firm prevented Mr. Spafford from accompanying the family. He planned to join them as soon as possible. (Read the entire article HERE)

---

When the disciples saw Jesus in prayer, they asked him, "Lord, teach us to pray." (Luke 11:1) From that glorious question in Scripture, we have what is known as the Lord's Prayer. Millions have repeated those words, and it is one of our greatest examples of calling out to God. (Read the entire article HERE)

---

Turn on the television or the computer these days and too often we find a disaster report. In fact, we can become depressed if we watch and read too much of what is happening in our world. So we have a choice — Do we fret over these burdens or do we focus on God's love for each and every person in the world? (Read the entire article HERE)

---

The story behind 'Because He Lives'

The party on Sunday afternoon had been fun, but after the children left my friend Amy's house, it was a mess. Candied egg wrappers were all over the floor and someone left their Easter basket with the green grass scattered about. Amy sighed, "I sure am glad Easter is over."(Read the entire article HERE)

---

Our troubled world longs for peace. We are bombarded with reports of violence in towns and homes. Our hearts are broken and we ask, "What can I do about it?" Often there are wonderful meetings of peace-loving people who join their hearts and prayers to understand this deep need. I praise God for them.

But what of the people who can't attend these gatherings? All of us need encouragement and hope for peace in our troubled world. At times, the best that can happen is that each individual seeks peace in his or her troubled heart. This is what happened to an amazing woman of faith some years ago. (Read the entire article HERE)

---
"Jesus Loves You Fellowship"
In the Bible we read these words of Jesus,
"Believe in God, believe also in me." (John 14:1)
As we believe, we can know God's perfect love.
The following stories and songs tell of God's
plan for our lives.

1. 'Jesus Loves Me' - This simple, childlike song has its beginnings in a very short poem in a very long novel ...
2. 'Softly and Tenderly Jesus is Calling' - The dynamic preaching of evangilist Dwight L. Moody was over: he lay on his deathbed ...
3. 'Amazing Grace' - Even the sound of sweet-grace, grace-it is amazing...
4. 'Go Tll It On the Mountain' - The carolers in our town who sing from door to door often sound like a band of angels ...

God bless you,
Lucy N. Adams
Look at a few of my 52 hymn stories!
"A Mighty Fortress Is Our God" ( Luthers' complaints sounded all around the world )


"Amazing Grace" (Newton's life of degradation suddenly changed.)


"America the Beautiful" (Bates was unhappy with her poem)


"Battle Hymn of the Republic" (Howe decided the words were horrible)


" It Is Well With My Soul" (Spafford wept as he read, "Saved alone")


"Jesus Loves Me" (This simple, childlike song has its beginnings in a very short poem in a very long novel. Today, millions of people know the poem written by Anna Warner. The novel has been forgotten.)


" Just As I Am " (She could not believe the cold, hard facts. The prognosis of her disease was eventual paralysis. As Charlotte Elliotts' frustrations grew into anger, she wondered why God would allow such a thing to happen.)

"...like a pebble being tossed into crystal clear waters creating ripples of new understanding..."
"...inspirational work of art." - "I love Lucy Adams ..." - "...I highly recommend this book."
Hymns inspire an author's book
Lucy Adams turns 52 songs of devotion a top seller
By VICKI HYATT, Staff writer,
LAKE JUNALUSKA -- Lucy Neeley Adams, author of "52 Hymn Story Devotions," claims there is nothing original in her recently published book.
"I haven't written a thing that hasn't already been said somewhere, except for the personal illustrations about what a hymn meant to me," she says humbly.
But researching the beginnings of some of the most popular hymns through the ages, condensing the story and then adding a poignant "personal touch" has been a popular concept. It has taken Adams on a journey from a music ministry within the Methodist churches where her husband has pastored to a radio personality, then a newspaper columnist and finally to writing a book.

Within this site, you will find a brief history of Lucy Neeley Adams, excerpts from 52 Hymn Story Devotions, Benefits & Reviews, a story of "Our Song" and how to purchase "52 Hymn Story Devotions" from either: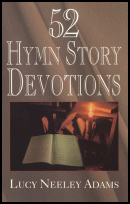 | | | |
| --- | --- | --- |
| | or | |
| | | |

Other Stories

WHEN "God Speaks, Devotional Responses to Every 3: 16 in the New Testament "God is speaking. Are we listening? When we're lonely, confused, or angry, God speaks to us. When we're content, satisfied, or joyful, God speaks to us. Join the Christian Writers Fellowship of Western North Carolina on a journey through the New Testament's 3:16 passages. God speaks to us through His word. He wants to speak to you too.

May 2013 publication.
<!img src="/cgi-sys/Count.cgi?df=hymns2.dat|display=Counter|ft=2|md=5|frgb=0;0;0|dd=E|st=550"> <!img src="/cgi-sys/Count.cgi?ft=2&frgb=000000&dd=E|df=x.dat"|st=2950> <!img src="/cgi-sys/Count.cgi?df=52hymns.dat|display=Counter|ft=1|md=5|frgb=0;139;216|dd=A">